7 Essential Commands for Your Dog to Learn Now
July 12, 2017
Trina
One of the first questions to cross a new dog owner's mind is how to train your dog.  I like to think of this process in two phases.  First, and most critically, should be teaching your new pup the essential commands that will help keep him safe in most situations.  Second, and this is the fun part, teaching your dog the tricks that both he and your family will enjoy.  Something that too often goes unsaid is that training can be a valuable bonding experience between a dog and his humans.  As such, it is hugely important that all members of the family take part in the training.  Whether in a teaching or reinforcing role, participating in training these common dog commands serves as a critical building block of respect and love between you and your dog.
The 7 Most Common Dog Commands are….

Sit
Stay
Come
Drop It
Heel
Play Dead
Roll Over
Let's cover the essential commands that will safeguard your best friend in many potentially dangerous scenarios.  Your very first training effort should always be to teach a dog to sit, stay and come.  Yes, these are three distinct commands, but most trainers will tell you that they should be taught in unison.  They will also almost unanimously tell you that teaching a puppy to stay is the most important lesson he'll ever learn.  Other valuable steps in proactively protecting your puppy, are teaching him to drop it and learning to heel your dog.
Often some of the traits that we treasure most in our dogs can be the same behaviors that put them at risk in certain situations.  Imagine you're arriving home from work and your pup is watching over your children in the park across the street.  As soon as you come into his view, all he knows is that another one of his favorite people has returned from the most recent unbearably long absence.  He'll want to smell where you've been and to tell you all about his day.  While you're obviously excited to see him as well, what you notice and he doesn't, is that your neighbor is arriving home as well and can't hear you with the windows up.  In that instant it is invaluable to know that no matter what else is occupying his attention as he nears the street, your command to sit and stay will break through and result in him immediately complying and possibly saving himself from unthinkable harm.
Close relatives to the sit and stay commands are come and heel.  Again, one of the things we love most about our dogs is their unbridled enthusiasm for all things fun.  Unfortunately, at times those things can lure our furry friends into an impromptu chase.  Before you know it, he's a football field away from you in some dense brush.  In this situation, it sure is nice to know that even though he can't see you, he'll still hear your voice and come trotting when asked.  Heeling may not be the most important of commands related to safety, but the skill is a valuable social tool.  As shocking as this may seem to you and me, not everyone is comfortable around dogs.  When encountering one of these unfortunate souls during a walk, the ability to heel your dog benefits everyone.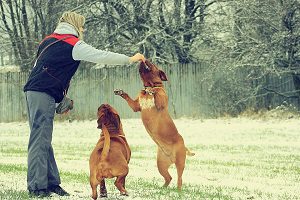 Bringing a close to safety commands, you're also going to need to teach him to drop it when requested.  Again, our best buddy's enthusiasm (and relentless desire to chew), can put him in a vulnerable spot.  There may come a time when he has trouble discerning between a new toy and a prescription bottle that was inadvertently knocked off the kitchen counter.  You'll sleep better knowing that if this sort of quandary ever presents itself, both you and your dog are prepared.
Now that we have the essential commands out of the way, you can begin teaching some of the more advanced dog tricks everyone loves.  The possibilities here are limited only by you and your dog's imagination, but some good building blocks are teaching a dog to play dead and roll over.  These are fun tricks he can impress his friends with while proving useful to you at the same time.  Cleaning your boy's ears can be a challenge as it clearly won't be one of his favorite activities.  Having mastered these two commands can make that task easier on both of you.
Try not to look at training as a task so much as to view it as an opportunity to protect your new family member, while at the same time bringing him closer together with his new family.  You'll all be happier for the experience, the results and the memories!
Read more like this:
Advice