How to Care for an Older Dog
August 9, 2017
Craig
Your canine pal is a key part of your family life. While it can be sad to think of them growing old, it is an entirely natural process. That said, when considering dog health care, there are some helpful tips to employ and early signs that can warn you of more serious problems related to your dog's health. Follow these tips and advice and your canine best friend will remain an active and happy part of your life for years to come.
Diet
It's not just humans who need to eat all their fruits and vegetables to be healthy! As dogs age they can become prone to bowel conditions such as constipation. Include just a small amount of fruit and vegetables in their diets however, and the extra fiber will help to stave off this uncomfortable condition – along with a bonus boost of vitamins.
The best dog food for older dogs will have a nutritional profile tailored to their specific needs. Don't be afraid to check the labels and to add supplements if necessary. If you're wondering how to help dogs with arthritis, prevention through diet is better than cure. Glucosamine Chrondrotin can be purchased in powder form from health food stores and added to dog food.
Arthritis in Dogs – Signs and Treatment
Sometimes no matter what you do, a dog will develop arthritis in its later years. It is important to know the symptoms so you can get your dog to a veterinarian as early as possible.
The symptoms include:
Intermittent lameness

Reluctance to sit up or generally walk around

Stiffness in limbs – especially occurring immediately after exercise or a prolonged period of inactivity.

Swollen joints and/or visible joint deformities

Joints may feel warm to the touch
If your dog presents with any of these symptoms, book a visit to your vet immediately. There is no cure yet, but with early diagnosis, you can take advantage of a range of treatment options available which can help dogs with arthritis and minimize the pain and discomfort.
Older Dogs Losing Hair
Many older dogs may lose some hair in their twilight years – just resist the temptation to give them a comb over like Uncle Bob. Though there can be many underlying causes, Allergic Dermatitis is one of the most common.  This is because older dogs can be more susceptible to allergens such as pollen, dust and chemicals from, for example, cleaning products.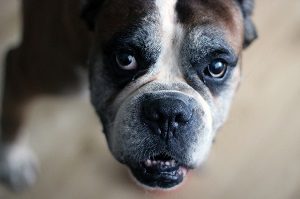 Help your pal stay at his hairy best by avoiding his exposure to these chemicals and to weather extremes. Also make sure you groom him regularly, and that you use brushes and grooming tools with round teeth that don't snag or tangle in his coat.
Heart Health
While heart disease in dogs can present with a number of symptoms, the following are some of the most common:
Cough

Difficulty breathing

Reduced ability to exercise

Loss of appetite and weight loss

Weakness in the rear limbs.
As with arthritis, bring your pet to your dog health care provider as soon as one or more of these symptoms are apparent. There are various forms of dog heart medications that can be prescribed as well as techniques to manage, and even nullify, long-term damage. Catching heart disease early is the key to slowing, and often reversing, the damage.
Hearing Loss in Older Dogs
No, he's not ignoring you! Dogs' losing hearing, like humans, is an inevitable part of the aging process. While dogs will lose a certain amount of their hearing over time (this is referred to as natural geriatric nerve degeneration), hearing loss can be exacerbated by infection, injury or even a build-up of wax.
Don't go poking about in Fido's ears with a cotton bud, however; you will probably make things worse.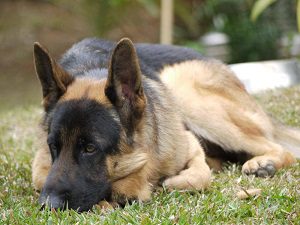 Instead, take your dog to a vet if they show any of these symptoms:
No response to squeaking toys / clapping hands

No response to snapping fingers behind the head

No response to doorbells or other loud noises

No response when called by name

No response to other dogs
Like their human owners, dog's bodies will change as they age, and they will naturally lose a certain degree of their abilities. But hey, can you still run around after a football like you did when you were six? Just as you know the limits of your own body so too will your dog.
It's important to learn to help him adapt to the aging process and, more importantly, to learn to recognize the early signs of anything out of the ordinary.  This will enable you to catch any serious problems early while they can still be stopped or even reversed. Follow these tips and you can maximize the time you have to love and enjoy the four-legged members of your family!
Read more like this:
Pet Care