Dog Breed of the Month: Rottweilers
May 24, 2017
Trina
Rottweilers are a member of the Working Breed Group.  Like most members of this group, Rottweilers are uncommon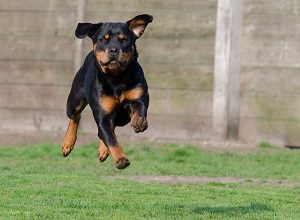 ly intelligent and loyal.  Other shared traits include their large size and formidable strength. The rottweiler's history can be traced back to early Roman times where they were originally bred to herd cattle and pull farm carts.  Later, they were taught to perform more aggressive duties such as bear hunting, if you can believe that!
Rottweiler Features
Given the right circumstances, rotties can grow to be more than 100 pounds.  The rottweiler's short and smooth fur accentuates an already muscular frame, leaving an intimidating impression on most. Their imposing size, combined with their distinctive black-and-tan coloring, makes them one of the most recognizable breeds.
Rottweiler Temperament
Proper breeding and training are a must when considering a rottweiler for your family.  Unfortunately, occasional misguided and uneducated training has left them saddled with an unfair reputation.  That being said, as a rottweiler owner you are taking on a serious responsibility.  Any dog, especially one with the size and strength of a rottie, warrants respect.  However, the loyal and protective nature of these dogs demand extra care and caution in their training.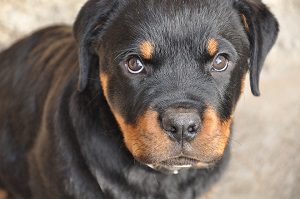 Rottweilers are uniquely dedicated to their family, but it's not uncommon for them to bond with others they are frequently exposed to as well.  On the same note, they've also been known to attach themselves more strongly to a single member of the family.  Most are very loving and can't wait to cuddle.  Like people, they do have very distinctive personalities and tendencies. You should be prepared for each of these eventualities presenting itself and possibly differing even within the same litter.
Are rottweilers good with kids?  Absolutely, but while they will bond quickly with your children, it would be short-sighted to assume your rottie will deal with other children the same way.  His protective nature could interpret normal play behavior between children as a threat to those he loves, posing obvious behavioral risks.  His heritage as a herder can also pose challenges in homes with small children or the elderly.  At more than a hundred pounds, what he sees as a playful nudge can end badly for someone with balance issues.  Certain rottweiler traits can make a rottie a great part of your family when he is raised properly, but rottweilers do require an extra level of vigilance on the part of their humans.  For these reasons, you should strongly consider professional training.
The breed isn't normally known for being very vocal, so your rottweiler's barking should be investigated.  Chances are he's spotted something he perceives as a threat to his humans.  As such it warrants your attention either to address the issue or to let him know all is still right with the world.
Rottweiler Grooming and Maintenance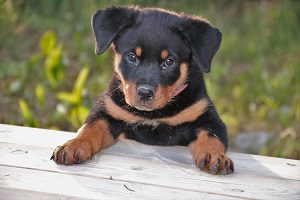 Many people stereotype rottweilers as single-minded guard dogs when the opposite is true.  Rotties are very much a thinking breed, so it's critical to remember that they are happiest when they have a job to do.  In addition to a normal walking schedule, it's especially important to play games with your rottie.  Playing fetch or hide-and-seek with your pup frequently will make him feel like a valued member of the family.  He needs a sense of purpose so even during those unavoidable busy stretches in your life, be sure to at least run him through his set of learned commands on a daily basis.
Rottweilers have what is known as a double coat.  They have a dense outer coat and a softer undercoat around the neck and thighs, the thickness of which can change depending upon the climate he lives in.  Do Rottweiler's shed?  They do, most heavily during Spring and Fall, so it's important to brush him at least once a week during those seasons.  Bathing requirements are more relaxed though.  Depending on personal preference, you can bathe your rottie only when he's noticeably dirty or as often as weekly without damaging his coat.
Rotties do slobber, especially while drinking or immediately following a meal.  Some extra care around his feeding station and environment can mitigate this trait though.
Their average weight and their genetic characteristics leave them vulnerable to hip and elbow dysplasia.  They are also prone to obesity, which accentuates the risk of the former.  Thankfully, obesity is the one thing you as his human can easily protect him from by taking it into account when figuring out his diet.  A rottweiler's life expectancy is typically 8 to 10 years.  Caring for their unique needs will help to protect them from avoidable health issues and ensure many happy memories!      
Rottweiler Fun Facts
A rottweiler's bonding tendencies and protective nature earn them a place near the top of recommended breeds to serve as service dogs and they've even been employed in search-and-rescue roles.
At one point in their history, the rottweiler was actually at risk of extinction.  When cattle driving was briefly outlawed in Rome and they were replaced by donkeys as the prefered carting animal, their numbers fell dramatically.  If not for the quick thinking of a club formed to protect the breed in the early 1900's, we might have lost the breed forever.
Rottweilers aren't for everyone, but their protective nature and strong bonding traits are obvious draws for many families.  What sometimes gets overlooked though, is the deep and intricate nature of a rottweiler's personality.  Don't be surprised if you observe a sense of humor in your pup.  He is eager to please and impress and will even resort to what could be considered "goofy" behavior if he senses someone could use a pick-me-up.  Bringing a rottie into your home is like adding a family member in every sense of the phrase!
Read more like this:
Featured Dog