Dog Breed of the Month: Poodles
August 23, 2017
Trina
If you're looking for an energetic, kid-friendly, intelligent four-legged new member for your family, you should consider a poodle. While you may think of poodles as a Best-in-Show dog breed, they are so much more than just a beautiful dog. Poodles have a long history as water dog, a type of working dog and even their name reflects that.  Poodle derives from the German word pudelin which means to splash in the water.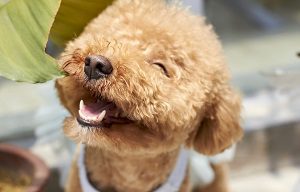 Poodle Features
According to the American Kennel Club, the three types of poodles – the Toy, the Miniature, and the Standard – are determined by their height and are not different breeds. A Toy poodle will be under 10 inches tall at the withers and weigh between 6 and 9 lbs. A Miniature poodle will be between 11 and 15 inches tall and weigh between 15 and 17 lbs.  A Standard poodle will be over 15 inches tall at the withers and weigh between 45 and 75 lbs for a male and 45 to 60 lbs for a female.
Mini, Toy and Standard poodles coat colors can include black, white, silver, grey, blue, brown, cafe-au-lait, cream and apricot. A smaller poodles life span is typically between 14 and 16 years and a typical standard poodles lifespan is 12 to 14 years. No matter which size poodle you get, your new family member should be part of your life for a long time.
Poodle Temperament
No matter which one of the poodle types you choose, be prepared to spend a lot of time training and exercising this highly intelligent and high energy dog. Your poodle will learn quickly so be sure to have a training plan on hand- whether it's one you're in charge of or an obedience school you've signed him up for. Poodles pick up bad habits just as quickly as good ones so be on your best behavior around your new pup.
A standard poodles temperament is an easy one for new dog owners. They are generally sensitive and loyal, eager to please and not very aggressive. Your poodle might bark at a stranger but he's only doing it to keep you, his beloved human, safe.
Because your poodle is so smart, he'll need to be entertained lest he become bored and misbehave for attention. This doesn't mean you need to entertain him 24/7 but it's a good idea of keep some toys on hand for him to play with and to play with him when you are around. Smaller poodles especially can be great apartment pets as they're able to get enough exercise indoors, running around your room or down hallways.
Poodle Grooming and Maintenance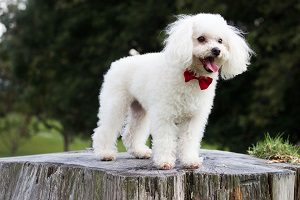 Like human hair, poodle fur never stops growing so be prepared to regularly groom your poodle every three to six weeks. If you're an allergy sufferer, you may be wondering Do poodles shedThe answer is yes, but most of their fur collects in their coat, requiring you to brush them daily to avoid matted fur. Poodles are one of the most hypoallergenic dog breeds out there and poodles are often crossbred with other dogs. The most common poodles crosses are with cocker spaniels, malteses, labradors, golden retrievers and yorkies.
Traditional poodles grooming styles were due to their history as a water dog. Their fur needed to be trimmed so it wouldn't weigh them down in the water but would still in insulate their bodies in the cold water. Your poodle does not have to look like a water dog or a show dog though. You can easily groom him to look like a normal dog.
Poodles do gain weight easily and will often devour everything in their bowl so it's best to feed your poodle smaller portions twice a day and ensure he is getting plenty of exercise. Don't leave food just sitting in his bowl or feed him table scraps, despite those pleading looks he's so very good at giving you.
As with most breeds, poodles do have some genetic health issues you should watch for. Addison's Disease, epilepsy, thyroid issues (both hyperthyriod and hypothyroid) and Progressive Retinal Atrophy are all issues your vet should regularly ensure your poodle doesn't have. While this list seems long, poodles are generally a very healthy and sturdy breed so don't panic that your new family member is going to fall terribly ill.
Poodle Fun Facts
Elvis loved poodles and gifted them to his significant others.He gave his future wife Priscilla a poodle puppy named "Honey".
Poodles are big sleepyheads and a standard poodle will sleep up to 13 hours a day!
Poodles are such an old dog breed that their images are found in Roman and Egyptian art from thousands of years ago.
Whether you live in an apartment or a big home with a hard, have a large family with kids or live alone, a poodle will make a great addition to your family. This adaptable breed doesn't need much space – just lots of love and attention.
Read more like this:
Featured Dog