Dog Breed of the Month: German Shepherds
July 26, 2017
Trina
If you're looking for a smart, courageous and active new member for your family, you should consider the German Shepherd. They are often referred to as the true "dog lover's dog." Their superior intelligence makes them easy to train and they do well in households with children. In fact, these naturally loyal dogs fit in with almost any lifestyle. The most important consideration is that these agile, muscular dogs require regular mental stimulation and physical exercise.
German Shepherd Features
German Shepherds have a long lifespan, with some experts citing 8-10 years. Full grown males range from 24-26 inches in height and usually weigh in at 65-90 pounds. German Shepherd females are slightly smaller, usually about 22-24 inches in height. A healthy female German Shepherd weight is between 50-70 pounds. They are not generally a hyper breed and bark when only when necessary. Alertness is part of their personality and they'll want to let you know when they spot something important you may have missed.
Mini German Shepherds are becoming popular with those who favor small breed dogs. Minis are usually German Shepherds bred with Border Collies or Poodles. If this is the case, the seller is obligated to be honest and upfront about the cross breeding. Some health issues may result from this mix. If you're considering a Mini German Shepherd, be sure to find out what your little one's DNA is composed of and do diligent research regarding their potential health issues.
German Shepherd Temperament
As with any other dog, temperament is a key factor in determining whether a German Shepherd will be a good fit for your family. Their protective nature and spirited disposition makes the German Shepherd an ideal guard dog. Highly intelligent, these dogs can learn many commands. German Shepherds can easily be trained for numerous canine jobs, including as a guide dog or as a therapy companion.
German Shepherd Grooming and Maintenance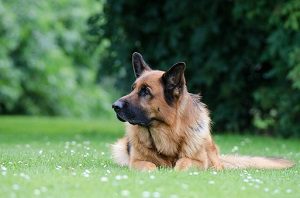 Their resemblance to wolves make for a handsome dog breed. German Shepherd coat colors and patterns range from "saddle back", "blanket back", and bi-colored. Some German Shepherds are multi-colored with coat hair that includes solid black, black and tan, black and silver. Another color frequently seen on this breed is a sable shade known as wolf gray. German Shepherds shed a fair amount but occasional visits to a groomer will help. Generally, these are healthy dogs with infrequent health issues. That said, you should keep an eye out for signs and symptoms of hip and elbow dysplasia and eye diseases.
Experts emphasize that color and pattern are the last thing potential owners should make a fuss about. Your puppy's vitality, good health, and athleticism are much more important. New owners are advised to realistically judge whether your household space can accommodate the needs of a German Shepherd. You should also be sure everyone in the family is prepared to feed, walk, and interact daily with this new addition.
German Shepherd Fun Facts
German Shepherds became very popular in the United States in the early 1900's in the state of Illinois.
At the time, their popularity was boosted by the long-forgotten canine movie stars, Rin-Tin-Tin and Strongheart.
German Shepherds are the globally preferred breed for police and military K-9 units.
In February 2017 the Westminster Kennel Club Dog Show awarded Rumor, a German Shepherd, best in show.


      
A German Shepherd will consider your family and home as his pack and territory. A German Shepherd will be generally fearless and once he bonds with his humans, it's for a lifetime. As long as you as his owner take the time to train him, to show him love and affection, and to respect your new family member, this will be a lifelong wonderful relationship.
Read more like this:
Featured Dog